Charles Freeman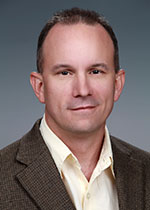 Pacific Northwest National Laboratory
PO Box 999
Richland, WA 99352
Send Email
PNNL Patents
PNNL Publications
2017
Heldebrant DJ

, PK Koech, RJ Rousseau, VA Glezakou, D Cantu Cantu, D Malhotra, F Zheng, GA Whyatt, CJ Freeman, and MD Bearden. 2017.

"Are Water-Lean Solvent Systems Viable for Post-Combustion CO2 Capture?"

Energy Procedia

114

:756-763.

doi:10.1016/j.egypro.2017.03.1218

Cantu Cantu D, D Malhotra, PK Koech,

DJ Heldebrant

, F Zheng, CJ Freeman, RJ Rousseau, and VA Glezakou. 2017.

"Integrated Solvent Design for CO2 Capture and Viscosity Tuning."

Energy Procedia

114

:726-734.

doi:10.1016/j.egypro.2017.03.1215

Davidson CL,

DJ Heldebrant

, MD Bearden, JA Horner, and CJ Freeman. 2017.

"Enabling CCS via low-temperature geothermal energy integration for fossil-fired power generation."

Energy Procedia

114

:6448-6454.

doi:10.1016/j.egypro.2017.03.1781

Whyatt GA, A Zwoster, F Zheng, RJ Perry, BR Wood, I Spiry, CJ Freeman, and

DJ Heldebrant

. 2017.

"Measuring CO2 and N2O Mass Transfer into GAP-1 CO2-Capture Solvents at Varied Water Loadings."

Industrial Engineering Chemistry Research

56

(16):4830-4836.

doi:10.1021/acs.iecr.7b00193
2016
Cantu Cantu D, D Malhotra, PK Koech,

DJ Heldebrant

, F Zheng, CJ Freeman, RJ Rousseau, and VA Glezakou. 2016.

"Structure-Property Reduced Order Model for Viscosity Prediction in Single-Component CO2- Binding Organic Liquids."

Green Chemistry

18

(22):10.1039/C6GC02203K.

doi:10.1039/c6gc02203k

Cantu Cantu D, JT Lee, MS Lee,

DJ Heldebrant

, PK Koech, CJ Freeman, RJ Rousseau, and VA Glezakou. 2016.

"Dynamic Acid/Base Equilibrium in Single Component Switchable Ionic Liquids and Consequences on Viscosity."

Journal of Physical Chemistry Letters

7

(9):1646-1652.

doi:10.1021/acs.jpclett.6b00395

Whyatt GA, CJ Freeman, A Zwoster, and

DJ Heldebrant

. 2016.

"Measuring Nitrous Oxide Mass Transfer into Non-Aqueous CO2BOL CO2 Capture Solvents."

Industrial and Engineering Chemistry Research

55

(16):4720-4725.

doi:10.1021/acs.iecr.6b00390

Zheng F,

DJ Heldebrant

, PM Mathias, PK Koech, M Bhakta, CJ Freeman, MD Bearden, and A Zwoster. 2016.

"Bench-Scale Testing and Process Performance Projections of CO2 Capture by CO2-Binding Organic Liquids (CO2BOLs) With and Without Polarity-Swing-Assisted Regeneration."

Energy and Fuels

30

(2):1192-1203.

doi:10.1021/acs.energyfuels.5b02437
2015
Fernandez CA, SK Nune, HV Annapureddy, LX Dang, BP McGrail, F Zheng, E Polikarpov,

DL King

, CJ Freeman, and KP Brooks. 2015.

"Hydrophobic and moisture-stable metal-organic frameworks."

Dalton Transactions

44

(30):13490 - 13497.

doi:10.1039/C5DT00606F

Mathias PM, F Zheng,

DJ Heldebrant

, A Zwoster, GA Whyatt, CJ Freeman, MD Bearden, and PK Koech. 2015.

"Measuring the Absorption Rate of CO2 in Nonaqueous CO2-Binding Organic Liquid Solvents with a Wetted-Wall Apparatus."

ChemSusChem

8

(21):3617-3625.

doi:10.1002/cssc.201500288
2014
Heldebrant DJ

, VA Glezakou, PK Koech, PM Mathias, D Cantu Cantu, RJ Rousseau, D Malhotra, M Bhakta, MD Bearden, CJ Freeman, and F Zheng. 2014.

"Evaluating transformational solvent systems for post-combustion CO2 separations."

Energy Procedia

63

:8144-8152.

doi:10.1016/j.egypro.2015.12.336
2013
Zhang J

, IV Kutnyakov, PK Koech, A Zwoster, CJ Howard, F Zheng, CJ Freeman, and DJ Heldebrant. 2013.

"CO2-Binding-Organic-Liquids-Enhanced CO2 Capture using Polarity-Swing-Assisted Regeneration."

Energy Procedia

37

:285-291.

doi:10.1016/j.egypro.2013.05.113

Freeman CJ, SB Jones, AB Padmaperuma, DM Santosa,

C Valkenburg

, and J Shinn. 2013. Initial Assessment of U.S. Refineries for Purposes of Potential Bio-Based Oil Insertions.

PNNL-22432

, Pacific Northwest National Laboratory, Richland, WA.
Mathias PM, K Afshar, F Zheng, MD Bearden, CJ Freeman, T Andrea, PK Koech, IV Kutnyakov, A Zwoster, AR Smith, PG Jessop, OG Nik, and

DJ Heldebrant

. 2013.

"Improving the Regeneration of CO2-Binding Organic Liquids with a Polarity Change."

Energy and Environmental Science

6

(7):2233-2242.

doi:10.1039/C3EE41016A

Mathias PM, LV Jasperson, D VonNiederhausern, MD Bearden, PK Koech, CJ Freeman, and

DJ Heldebrant

. 2013.

"Assessing Anhydrous Tertiary Alkanolamines for High-Pressure Gas Purifications."

Industrial and Engineering Chemistry Research

52

(49):17562-17572.

doi:10.1021/ie4020974
2012
McGrail BP, CJ Freeman, CF Brown,

EC Sullivan

, SK White, S Reddy, R Garber, D Tobin, J Gilmartin, and E Steffensen. 2012.

"Overcoming Business Model Uncertainty in a Carbon Dioxide Capture and Sequestration Project: Case Study at the Boise White Paper Mill."

International Journal of Greenhouse Gas Control

9

:91-102.

doi:10.1016/j.ijggc.2012.03.009
2011
Cabe JE

, DA King, and CJ Freeman. 2011.

"Post Combustion Test Bed Development."

Carbon Capture Journal

Nov/Dec

(24):Online.

Heldebrant DJ

, PK Koech, JE Rainbolt, F Zheng, TD Smurthwaite, CJ Freeman, M Oss, and I Leito. 2011.

"Performance of Single-Component CO2-Binding Organic Liquids (CO2BOLs) For Post Combustion CO2 Capture."

Chemical Engineering Journal

171

(3):794-800.

doi:10.1016/j.cej.2011.02.012

Widder SH

, RS Butner, ML Elliott, and CJ Freeman. 2011. Sustainability Assessment of Coal-Fired Power Plants with Carbon Capture and Storage.

PNNL-20933

, Pacific Northwest National Laboratory, Richland, WA.